The Bicycle is the main equipmet for a successful touring ride, whitout it or a substandard one the ride end up quickley. Take your time to find a model and size
that fits you, because I suggest you will be "one" with your bike for many years!
A Long Haul Tracker bike are built sturdy, often with a steel frame and fork. A steel fram is heavier, but stiffer which is a plus to ensure that the majority of the power is generated forward.
Bicycls wheels are also important, lots of spokes for strength. The gear should have wide range like a triple chainring set with a narrower range of "speeds" in the cassette or hub gear.
Configure your bicycle ,size, the saddle and handelbar for an upright riding position which is more comfortable for long tough rides. Configure your bike, size, saddle and handlebars for an upright riding position that's more comfortable for long, tough rides.
Don't be cheap with the saddle, it's more important that you understand first!
Two important rules 
– Easy to maintain
– Durable components
If your touring bicycle is configured with special components it can be "tricky" to repair and finding spareparts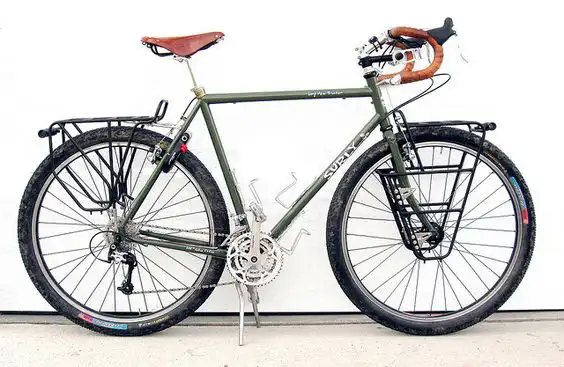 The Saddle
Brooks leather saddle, Brooks 66
Pros
Why a Brooks Saddle? You are sitting up on a bike for 8-10 hours, the bike dose'nt have any suspension and the road is rocky, bumpy and your butt is soft!
Made by leader, from the nature and after a few weeks of use, it has molded to the shape of your butt. Very comfortable, waterproof!
Cons
Expensive, cost lots more than other brand. Take a while to breaking in!
Brooks saddles have a reputation for high quality, premium design, comfort and longevity. They're some of the best saddles on the market and many cyclists swear by them. You also get a 10 year guarantee, proof of just how durable these saddles are.
I AND MY BUTT LOVE IT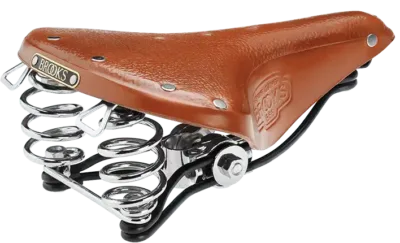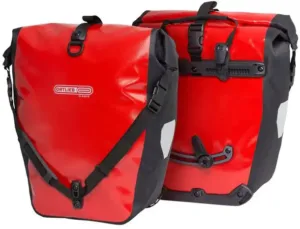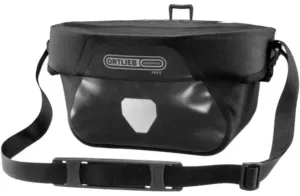 Panniers, Duffel- and Handelbar bag
Ortlieb Back Roller Pro Classic, 4x
Where ever you are riding a bike in the world you will discover Ortlieb as brand
is very popular. They are waterproof, durable, easy to clean, easy to hook up and off on your racks. Lots of distributors and spareparts
Ortlieb has lots of different models for every type of touring ride.
I choose 70 L size (Not for two bags, they often sold in pairs)
Ortliebs handelbar bags following same quality norm as panniers. Waterproof, reliable. Over rear panniers a 50 liters waterproof duffelbag from North Face.
Can be worn as a backpack,  thanks to the included straps.
Pros: Fluorcarbon free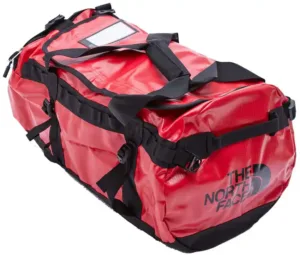 Bicycle USB Loader
To charge your mobilephone, Gps navigator while you pedaling it's no problem with this device. Mounted into the steerer tube.
– Starts charging at 3.5 MPH (5.5 km/h)
– Full charging at 9 MPH (14.4km/h)
– Max current: 1 Amp
– Waterproof
You can often use your curren hub but Sinewave hubs are designed for the purpose and more powerful.

I've tested simular chargers before with bad result but Sinewave reactor does what it aim to do…It really works